Product Details
RVT's range of Climex indirect-oil fired heaters have been designed to optimise the drying-out process; they provide warm dry air and continuous air movement, making them ideal for maintaining an ambient temperature throughout a building in the winter months. The 150kW model provides 9000 m3 heated air flow per hour, making it the ideal solution for drying out larger new build projects. Plus, this unit can achieve up to 90% efficiency, making it a highly effective and cost efficient solution. This construction site diesel heater also features an adjustable thermostat so that you can remain in control of the heat output. The heater can easily be re-positioned and redirect the heat as work progresses on site. Furthermore, attaching ducting, and teaming this unit with a warm air distribution kit, will ensure that there are no damp areas left in the building.


How would this unit be set up on site?
They are generally sited externally ducting the heat into the building or enclosed area via flexible ducting, providing a positive pressure which allows large volumes of space to be heated from a single heater (scroll to the bottom of this page to see photos of the set up). With the flow of warm heat through a building, moisture is released from surfaces often eliminating the need of dehumidifiers in a drying out programme. We would recommend that you consider teaming this solution with a Climex Warm Air Distribution kit.
Is this heater environmentally friendly?
Good news! This unit is compatible with HVO fuel; a greener alternative to red diesel. HVO will reduce carbon emissions by up to 90%, will reduce NOx by up to 30% and will reduce particulate matter by over 86%, when compared to regular diesel. Furthermore, HVO provides improved performance in the winter when compared to regular diesel. All RVT's oil-fired heaters are between 90-92% efficient, making them more fuel efficient than some alternative diesel heaters available.
Upgrade to our New Wireless Thermostat
This unit features an integrated thermostat as standard, however you may prefer to upgrade to a wireless thermostat for a small additional cost. Please ask us for pricing when you book your heater!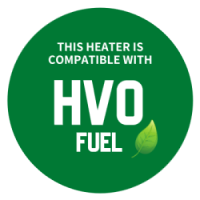 Key Product Features
Output - 150kW
Excellent Fuel Economy - 90% Efficient
Requires a single 110v supply
Mobile - Easy to reposition on site
Thermostat options
Heater can be used with long runs of ducting to ensure even warm air distribution
HVO Heater - This unit is compatible with HVO fuel
Key applications
Drying out of large new build construction projects
Heating or maintaining ambient temperatures
Temporary heater hire