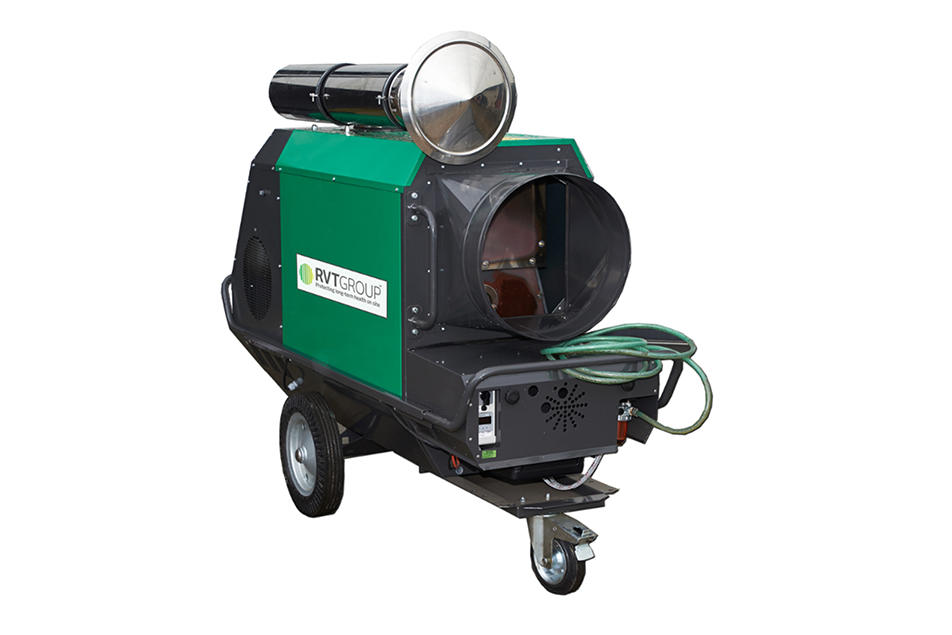 Indirect oil-fired heaters are commonplace on construction sites, particularly during Autumn, Winter and Spring when the weather can often be cold and damp. Whilst they can help keep site workers warm, they are also highly effective in drying out buildings, helping to ensure that projects remain on schedule.
Unlike gas heaters that can produce moisture whilst heating, indirect oil-fired heaters produce clean dry air that can help with frost protection, whilst accelerating the drying process. Plus, when you start looking at larger projects such as hospitals and schools, it is usually much more energy efficient to hire one or more 200kW mobile indirect oil-fired heaters, than multiple electric heaters positioned around the building.
Further more, when used with ducting, indirect oil-fired heaters can provide a continuous and even movement of warm, dry air around the building; unlike electric heaters which tend to produce heat spots which can lead to uneven drying and cracked plaster.
RVT offer mobile indirect oil-fired heaters in 65kW, 110kW, 150kW and 200kW sizes.
RVT's 200kW indirect oil-fired heater is the largest mobile heater (in terms of output) available on the market. It therefore maintains the advantage of being highly portable and energy efficient, whilst delivering a substantial volume of heat.
There are two options for the positioning of this large oil-fired heater:
Sited externally. With this method, hot air is ducted into buildings or enclosed areas via flexible ducting. This creates positive pressure which allows large volumes of space to be heated from a single heater.
Sited within the area to be heated. With this method, any fumes and exhaust created will be ducted to the outside via a flexible flue.
In summary, our 200kW indirect oil-fired heater boasts excellent fuel economy, and is reliable and efficient, making it the perfect heating companion for a number of site tasks, including:
Drying out new-build construction projects
Maintaining ambient temperatures for specialist finishing and flooring trades
Maintaining ambient temperatures during painting of encapsulated bridges and structures
Of course, there are times, especially when working on much smaller projects, when electric heaters are the most suitable solution, which is why RVT also offer a small range of electric heaters.
For more information on indirect oil fired heaters, click here.